It wasn't in our schedule to go to SM Southmall today but something was nagging at me to go.  I could have just easily let my brother withdraw money from the ATM for me but something kept telling me to go with him (together with the little one of course).  Good thing we did because it had something to do with our favorite Krispy Kreme Doughnuts!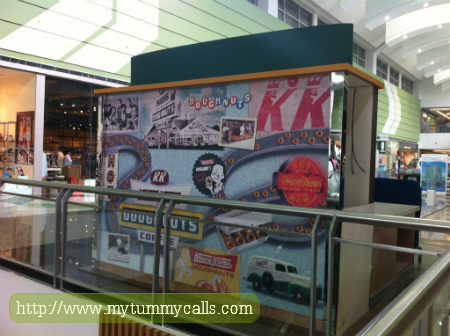 We were coming from the back of the booth and my eyes quickly darted to the words DOUGHNUT.  Hmmm, nowadays, only 1 store I know spells it that way (I think) so I quickly scanned the collage and couldn't believe my eyes when I saw the "KK" on the top right and "Krispy Kreme Doughnuts" on the bottom. Yay, yay, yay!  Just to make sure, I ran to the front and took another photo (Yes, that's how excited I was).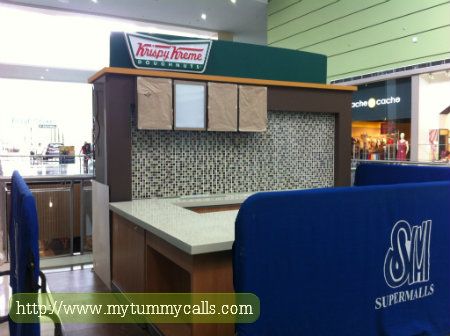 This is so great for me and the little girl.  Our favorite doughnut shop will literally be our neighbor (yep, just 5 minutes away)!  I wonder when it will open, there weren't any signs or notice for the date of opening.  I guess we'll just have to wait a couple more weeks, or hopefully days.  Or maybe I'll just call the mall admin and ask for the exact date.  We can't wait to have our doughnut treats every time we're at SM Southmall, which is ummm quite often.
This Krispy Kreme Doughnut Booth is located near the escalator at the Food Street Entrance, Upper Ground Floor of SM Southmall.  It is almost across the side entrances of SM Department Store and SM Supermarket.  See you there!